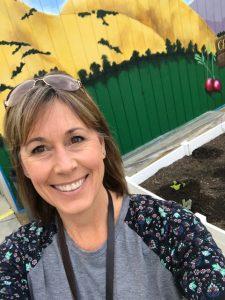 Why an I an educator?  My decision to become a teacher stemmed from working as a teaching assistant at Solano Community College.  I truly enjoyed working with the students and assisting my teacher.  This experience made me begin to question my college path.  I decided to change my educational goal and become a teacher.  I have never regretted my decision.  I truly found my passion.  I enjoy working with students and encouraging them to become life-long learners.
What do I enjoy most about teaching?  I enjoy being in the classroom and working with the students.  It is rewarding to see the growth in each student over the course of the year both academically and socially.
Years in the profession/district?  This is my 25th year with VUSD.
What do you do on your spare time/free time?  I enjoy spending my free time with family and friends.    I enjoy going on long walks with my dogs and traveling.
What does being a member of the Vacaville Teachers Association mean to you?
Being a member of VTA means that I am a part of an organization that truly cares about our community and providing the best opportunities for all our students and teachers.