UPDATE – we win!
Because of overwhelming community resistance, the petition was withdrawn!
Why is this here and what do we need you to do?
On April 25th, the Representative Body of the Vacaville Teachers Association voted unanimously to oppose the application of the Rise Charter School to the Solano County Office of education.
VTA did this because Rise Charter School only offers online instruction over a computer and, during their presentation to the Solano County Board of eduction, presenter Eli Johnson stated that Rise Charter School offered "virtual" vocational education classes and "virtual" autism instruction and therapy for children as young as four.
In addition, this charter operator submitted to the Solano County Board of Education an almost word-for-word copy of a charter petition that was recently withdrawn from consideration before the West Contra Costa school district because there were so many problems with it. The name of the school there was Uplift, but the CMO for Rise and Uplift are the same: The Academies of Science Technology Engineering Arts and Mathematics.
Uplift Contra Costa Charter School presents a number of problems, including an educational program that is unlikely to succeed, inadequate descriptions of the elements of a charter petition, and a troubling connection to a for-profit virtual education company based in Virginia, K12 Inc.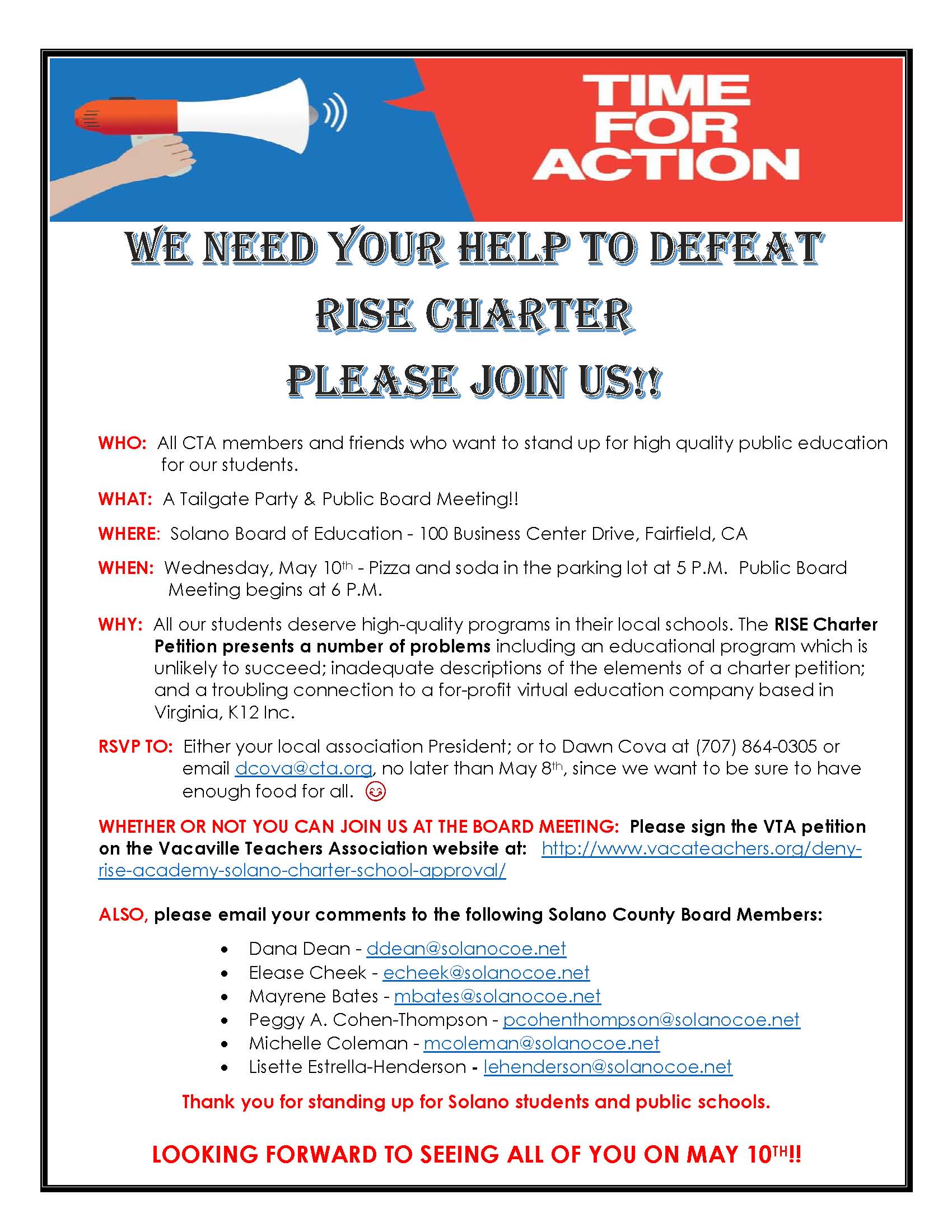 Who is K12 Inc?
The company has also run into trouble for low graduation rates, inflated attendance numbers, and other issues. See the investigative series by the San Jose Mercury News: http://www.mercurynews.com/2016/04/16/california-virtual-academies-is-online-charter-school-network-cashing-in-on-failure/
As described below, people associated with founding Uplift have worked for other K12 Inc.  associated schools, including California Prep and California STEAM.  There are other indications of the connections between Uplift and k12, including that: the website listed for Uplift Contra Costa goes to a k12 Inc. website — http://www.k12.com/content/fts/uca/en.html; the phone number listed on the site is a k12 Inc. number; and enrollment occurs through the k12 Inc. parent portal (https://k12parentportal.force.com/portal_createaccount?SchoolID=7576), which asks "Are you the Legal Guardian of a student who has previously applied or been enrolled in a K12 Inc. school?"
Who is managing Uplift?
In the charter petition, the Academies of Science Technology Engineering Arts and Mathematics, d/b/a Uplift California, is the non-profit corporation which will run Uplift Contra Costa.
The Academies of Science Technology Engineering Arts and Mathematics (Uplift) previously listed Eli Johnson as CEO, CFO, and Secretary. A more recent filing lists Sean McManus as CEO, CFO, and Secretary. Robert J. Williams filed the paperwork for the corporation.
Johnson, McManus, and/or Williams are also affiliated with the following corporations:
California STEAM Sonoma
Uplift California Charter Schools
Academics, Arts, and Action Charter Academy
The California Prep Sutter Charter Schools
As the following article from the Washington Post outlines, McManus and Johnson have a history of subverting the normal charter authorization process. For example, they obtained a charter from one school district and set up that charter school in a completely different school district, without the knowledge of that district. See the following for more details: https://www.washingtonpost.com/news/answer-sheet/wp/2016/10/14/in-californias-charter-world-a-tangled-web-of-for-profit-companies-and-nonprofit-schools/?utm_term=.65787ca92174
The involvement of McManus in other scandal-ridden schools raises serious questions about Uplift and its ability to successfully implement the charter.
Virtual Education
An increasing body of research is showing that virtual schools are not adequately educating students. Given that the population Rise is targeting is already behind in their schooling, it seems unlikely that the school's educational program is adequate.
Recent studies on the ineffectiveness of virtual education include: